TRAIN | PREPARE | PROTECT
"Excellent training equals excellent dogs."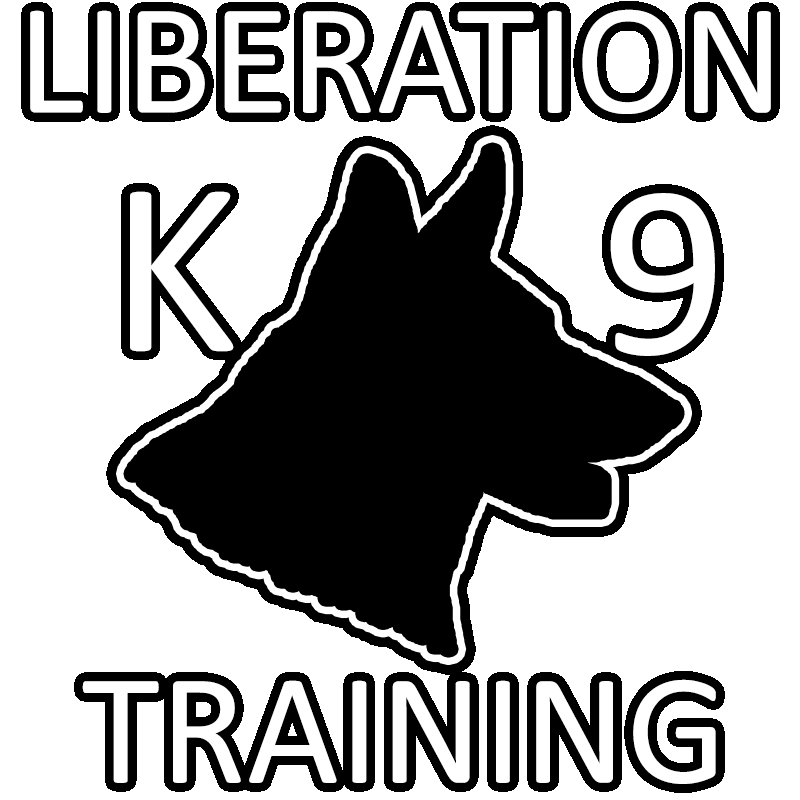 Book a first time session
Access our FREE educational blog suite featuring topics such as practical household obedience, behavior management, and personal protection training philosophy!
Take the first step in the Liberation training process by booking a no cost consultation today!
The Liberation K-9 team is awesome!! My golden retriever was showing some dominance aggression and resource guarding that concerned me, so we gave Liberation K-9 a try. I was blown away with the results! Kevin and Robert took the time to listen to the problems we were having and tailored our training sessions to best fit us. They made sure to explain everything we were doing and the reasoning behind it. I truly feel they helped me to build a long-lasting relationship with my dog Obie, rather than just teaching him commands like some trainers do. He no longer resource guards or shows any aggressive behaviors and overall listens way better than before. I can confidently say that in just 4 sessions I have seen a complete change in my dog and our relationship. I can't say enough good things about Liberation K-9 and I highly recommend them to anyone!!!
"Kevin and Robert are not only excellent trainers they take a sincere interest in your dog as if it were their own. Not only will they train your dog but also give you all the tools necessary to keep your dog well trained. My experience with Liberation K9 has been fantastic. Tremendous changes in my Coco. Whenever I say either Kevin's or Robert's name her ears perk up and runs to the door. What a great experience for both of us! I highly reccomend them for all your training needs."
"My golden retriever puppy Penny and I just finished the K-9 four-week puppy obedience class, and it was awesome! Kevin and Robert are so knowledgeable and patient. I am so glad that I took Penny there as a puppy so she could learn good habits from the beginning. She learned sit, stay, down, come here (recall), place, and other commands. They were also super helpful in helping me learn how to deal with her nipping and biting, and how to get her to walk like a normal dog on a leash lol (without jumping all around and biting the leash).One thing I really appreciated was the time they spent with Penny - and with me - so that I can continue training her and working with her at home. We will definitely go back for refresher training later. These guys are awesome. Thank you!!"
"We love being a part of the Liberation K9 family! We took our Belgian Mal as a pup and they have helped us get her obedience training down and now working her little by little. Definitely professional and love your dog as if it was theirs!"
"Very knowledgeable guys who prove their many years of experience. Had an answer for every question we asked. Explained how and why they did everything. Well set up building and yard for training. Worth every penny spent. Can't wait to take our girl back for some more specialized training. Might even get our other 2 dogs in as well."
Excellent experience! Kevin is always on time. He is very thorough and clear with his instructions as well as feedback on what to do better. Our pit bull puppy (just turned 1) has improved her obedience level exponentially and her nervousness around other dogs has also improved! Kevin is extremely kind with his dogs as well as ours and they take to him immediately. Our dog was definitely safe and happy around him!!! Would recommend Liberation K-9 Training to anyone!!!!
"I recently adopted a Belgian Malinois German Shepherd mix puppy. I knew that I would need help training him to reach his fullest potential as a working breed dog. After finding Liberation K-9 online and talking to Kevin, we joined the obedience club. The trainers were very beneficial in answer any questions I had and providing excellent guidance and training for me and my pup. They give feedback specifically to you but in a way that is applicable to all members of the training club. Not only has my dog become more obedient, but I feel more confident as a dog owner in how to handle my dog in various situations. They are honest and transparent about their ability to help you with your dog. It is evident they care about the dogs and owners they work with in this program. I highly recommend Liberation K-9 to anyone who is willing to invest in their dog, as well as, themselves as an owner."
"Our 7 month old German shepherd did the board and train, two week program, and we are thrilled with the results. She knew basic commands but Kevin simplified everything down to five basic commands and cleaned everything up. When she returned she understood "place" and now stays in place on her cot while we eat dinner and other times during the day. She no longer pulls on her leash when walking but "heels" and walks with us 99% of the time. One of my favs was he taught her the command "load up" and she now gets in the car on command! It was a wonderful experience and as much as we missed our girl during those weeks, we loved the fact that Kevin sent us videos DAILY of all she was learning and all her adventures out to socialize. (One of her big issues was barking at dogs when we are out in public and she is much much better... we still have some work to do but she's a million times better!)."
"Could not be more pleased with our experience with Kevin & Robert at Liberation K9!! They have taught us so much not only about our 4 year old GSD, Kyzer, but also a lot about ourselves and our relationship with Kyzer. Finding Liberation K9 Training has made us a better pack for our dog, and made him a better dog for our family! We are already signed up for the long haul with our 12 week old Malinois for the puppy group and cannot wait to see what the future holds with Liberation K9 Training!

If you have a dog, and love your dog, do the best thing for him/her and get the training they deserve!! And look no further than Liberation K9!!

Thank you Kevin and Robert!!"
Liberation K-9 was a god send for our Australian Shepherd Boomer! 6 weeks ago he was a loud obnoxious dog that barked and chased absolutely everything...the ups man was terrified to come into our driveway and would drop our packages off at our mail box. Family would get annoyed to come over because he always barked and jumped on them. Since training started with Kevin and Robert, our Boomer is now a calm well mannered dog. Our mail lady greets him every day, family doesn't hesitate to stop by and he no longer wakes our 2 year old up from her naps just by the sound of a horn from a neighbor. We have had Boomer since he was 8 weeks old, he is now 4 years old. I thought training would be a lost cause since he was no longer a puppy, Liberation K-9 worked magic and I am sooo grateful for them. I will recommend them to anyone looking for training no matter the age of the dog. Thank you soo much for working with fur baby!
Kevin is a awesome trainer. He had Bella for 2 weeks and she came home a different dog. When we dropped her off 2 weeks ago, when her and I would go on our walks I would be wore out from holding her. Tonight I walked with her and hardly had to hold the leash. Also she will stay on command now. I just cannot express how great full I am have to have had you to work with her. And have you to work with her more in the future. I would recommend this training to anyone that is looking for a great trainer.